Tag Archives
"vegan knoxville"
In the beauty world it can be challenging to find a vegan version of every product you need. A smoothing treatment that doesn't contain keratin from an animal and that actually works is a rarity. After research and trial runs, we have found one that we absolutely love and clients are loving too! Introducing OXO Organic Smoothing Treatment! Formaldehyde, ammonia, and sulfur free; this smoothing treatment is the healthiest choice for smoother, straighter, and more manageable hair. While anti-bacterial and anti-static, this treatment also moisturizes and rebuilds your cell structures.
Being a vegan salon is a priority for us and we are so happy to be able to provide these services to our community.
For before and after photos, visit our instagram! @loxsalon
For more information or to book an appointment, call, email, or go to the Book Now tab.
Lift your spirits and your hair this winter with Neuma Neuvolume shampoo. Sulfates? Never! Plant extracts and essential oils? Always! Neuvolume shampoo contains a perfect blend of pomegranate extract, shea butter, and apricot kernel oil. These amazing oils add body, movement, and volume while preventing breakage, extending your color longevity, and adding shine. This shampoo also has anti-static properties which is extra beneficial during cold weather. Neuvolume shampoo is one of our favorite products that really gets the job done. Not to mention it smells of vanilla, patchouli, and white fennel! Mention this blog post and receive 10% off Neuvolume shampoo!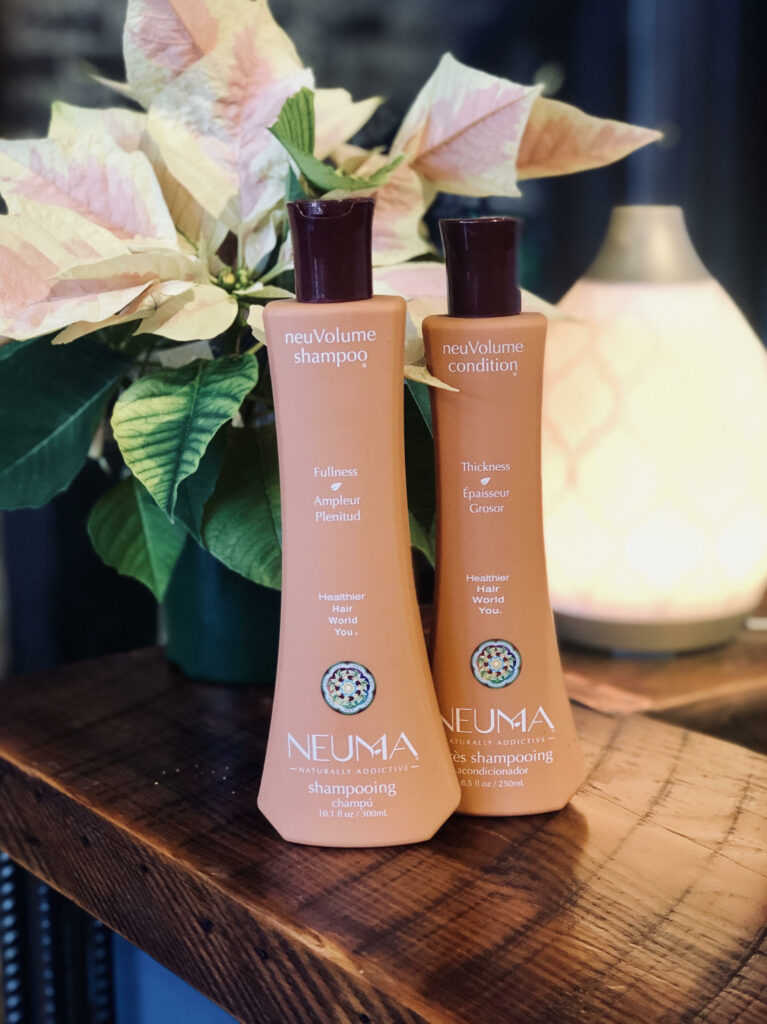 Winter is finally here and she is going to be sticking around for a while. With colder weather comes drier hair, skin, and nails. It's a burden we all battle but Lox is here to help! This winter season, we are offering essential oil treatments. Lavender, rosemary, tea tree, and peppermint go a long way!
Dry scalp? We have two essential oils scalp treatments to choose from. One utilizes rosemary, peppermint, and lavender to promote healthy scalp and hair growth. The second, uses tea tree to encourage a healthy scalp and immune system. Both options treat and prevent scalp psoriasis and dryness.
Dry hair? With the help of a conditioning treatment and argan oil, your hair will be back to normal. Our Neumoisture Intensive Masque uses Jojoba, grape seed, and yarrow extract to give your hair the moisture it's been craving. Meanwhile, our Neusmooth Revitalizing Masque uses quinoa protein, horsetail extract, and marula seed oil to strengthen and smooth your hair. Either option will leave your hair feeling soft, fresh, and revived. Neurepair Argan Oil Treatment will take care of your hair before blowdrying or on already dry hair. Argan oil, rose hips fruit extract, and green tea extract hydrate, repair, and reduce breakage.
Dry hands or feet? Our fabulous manicurists will freshen and rejuvenate your nails, hands, and feet with the power of peppermint and rosemary. Their oils and scrubs will relax you while renewing your skin so you can have a fresh and calm holiday season.
Though we have options for dry skin, hair, and nails year round, these specials are only for this winter season! Let us take care of you for the holidays!