Tag Archives
"knoxville hair salon"
As a society and as a salon, we love hair color! Light, dark, rainbow: we love it all! There are unfortunate realities when it comes to color though. At the end of the day, you are putting strong chemicals on your hair and altering it on a molecular level. As intimidating as that may sound, color doesn't have to be a scary or damaging process. There are several guidelines you can abide by if you color your hair to protect it and keep it as healthy as possible.
Regular hair cuts! Trimming your hair on a regular schedule will help prevent breakage on your ends and prevent breakage from moving up your hair strands. 6 – 8 weeks is recommended.
Cool water! Rinsing your hair with cool to cold water will preserve your color longer and will be more gentile on your hair. Hot water opens your hair's cuticle letting your color fall out and making your hair more susceptible to breakage.
Color safe shampoo and conditioner! Using the right products will go a long way with your hair. We provide color safe shampoos and conditioners during your service and we have several options available for retail from Neuma and Pulp Riot.
Conditioning mask! Last but certainly not least, we recommend during your color service to also receive a conditioning mask. It's as simple as sitting for an additional 5- 10 minutes at the shampoo bowl! You can also add a conditioning treatment onto a hair cut appointment or even a blowout appointment. For this service we use Oligo Blacklight Intensive Replenishing Mask. Specifically designed for color treated hair, this strengthening mask uses the power of argan oil and 11 amino acids to moisturize and repair while also increasing shine and color retention. It will bring life back into your hair! Love it and can't get enough? Not only is this mask available for purchase but it is also our March product of the month! Buy this mask during the month of March and receive 10% off!
You love your colored hair, so act like it! We want to help you have your dream hair so book a conditioning treatment asap! You can do so by calling, email, or the Book Now tab above.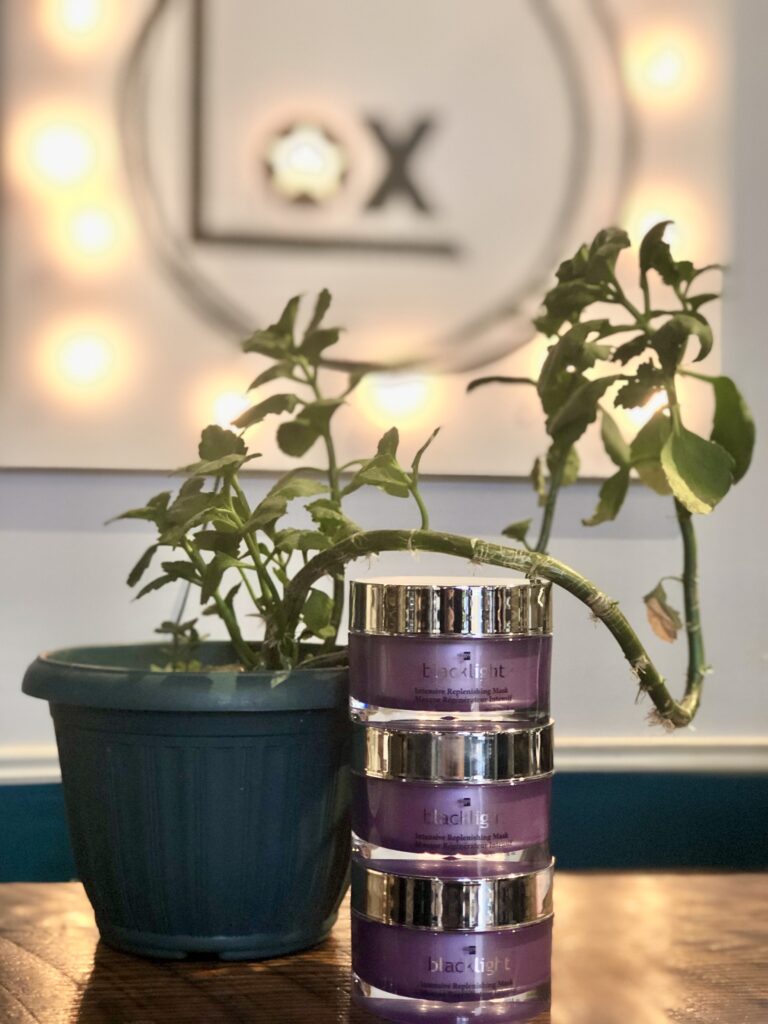 In the beauty world it can be challenging to find a vegan version of every product you need. A smoothing treatment that doesn't contain keratin from an animal and that actually works is a rarity. After research and trial runs, we have found one that we absolutely love and clients are loving too! Introducing OXO Organic Smoothing Treatment! Formaldehyde, ammonia, and sulfur free; this smoothing treatment is the healthiest choice for smoother, straighter, and more manageable hair. While anti-bacterial and anti-static, this treatment also moisturizes and rebuilds your cell structures.
Being a vegan salon is a priority for us and we are so happy to be able to provide these services to our community.
For before and after photos, visit our instagram! @loxsalon
For more information or to book an appointment, call, email, or go to the Book Now tab.
The First Friday of every month is an extraordinary time in Downtown Knoxville. Local businesses in and around downtown open their doors, & specifically their walls, to local artists' work on display for the evenings Art Walk. Most of these businesses are not galleries themselves, but rather restaurants, coffee shops, gift shops, & yes, even Salons.
If you have yet to experience First Friday, we suggest you start this week. Lox Salon is joining forces with The Basement Art Studio, Good Golly Tamale, & Gratitude bar to support over 40 different female artists in the Nasty Woman Art Exhibit opening this Friday at 6pm. This exhibit will serve as a fundraiser for the Knoxville Family Justice Center & Girls Rock Camp. 100% of the proceeds from the sale or artwork & submission fees will go to these charities that support & empower women.
"The idea of the Nasty Women Art Exhibit was borne from a group of NYC artists who wanted to show solidarity for women's rights. The Knoxville exhibit is one of many national exhibitions organized to demonstrate solidarity among female artists and allies who identify with being a Nasty Woman in the face of threats to roll back women's rights, individual rights, women's healthcare rights, immigration rights, racial and environmental justice. It also serves as a fundraiser to support organizations defending these rights. The first exhibit was at a warehouse in Brooklyn in January 2017 and served as a fundraiser for women's health, raising over $43,000 for the cause. Since then Nasty Women exhibits have spread throughout the globe."
Lox will also be hosting a Pop Up Shop this Friday & Saturday which will include clothing, accessories, as well as specialty hair products & tools, of which a portion of the proceeds will also benefit the KFJC.
We hope you can make it out to this event! It will be one you won't want to miss.