Jade Flanigan: Salon Manager, Master Stylist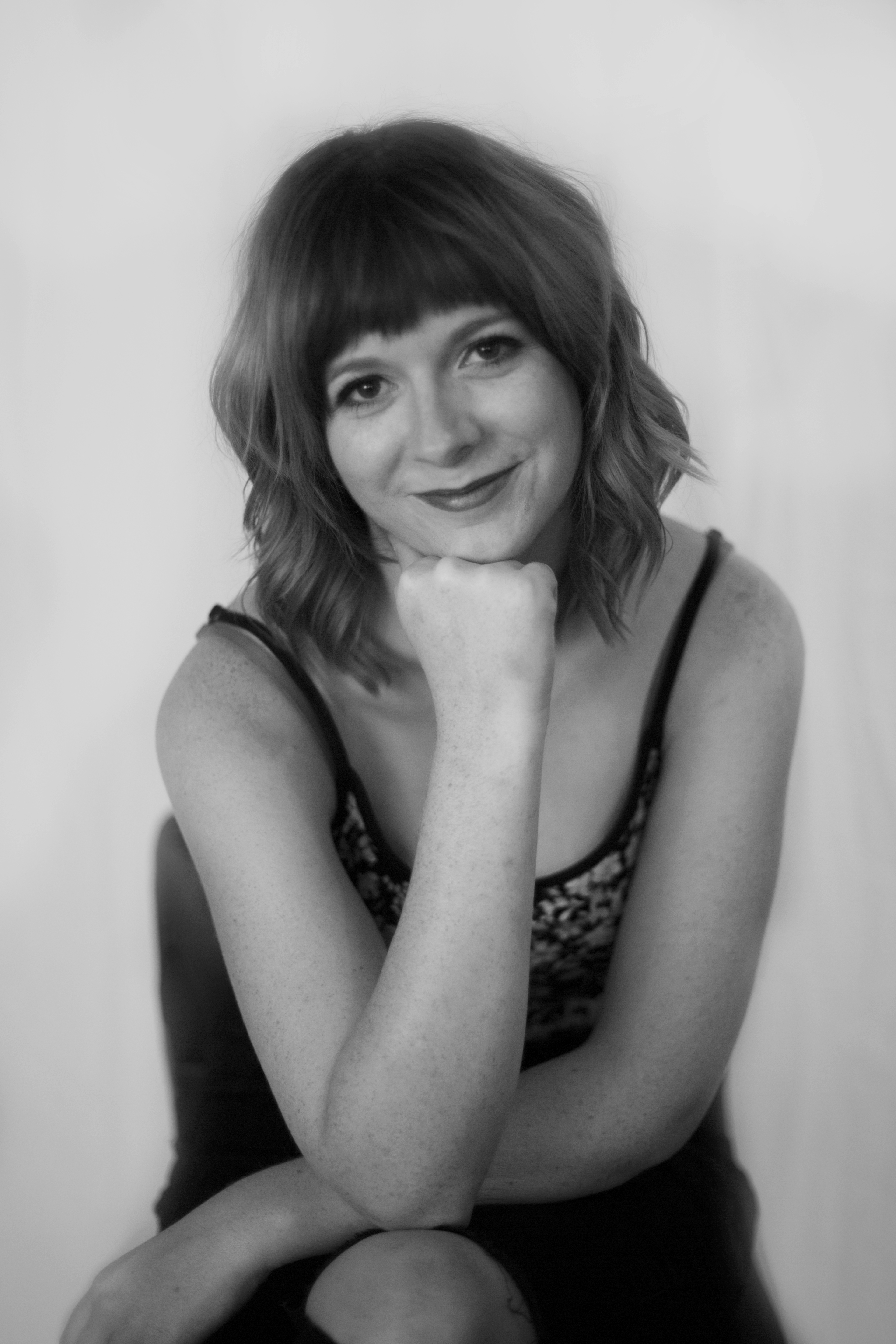 Hometown: Knoxville, Tn
Specialties: Short hair, barbering, braiding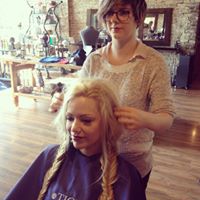 Past times: reading, cooking, crocheting, shows
Coffee drink: dirty chai with an extra shot from Java
Movies: What We Do In The Shadows, Brick, all Star Wars, & all Muppet movies
Tv: Game of Thrones, Parks & Rec, X files, & Buffy
Food: Tacos, Pizza, Shrimp, sushi
Music: anything a dad would listen to on a boat
Pets: 2 cats, Joey & Chandler-they are brothers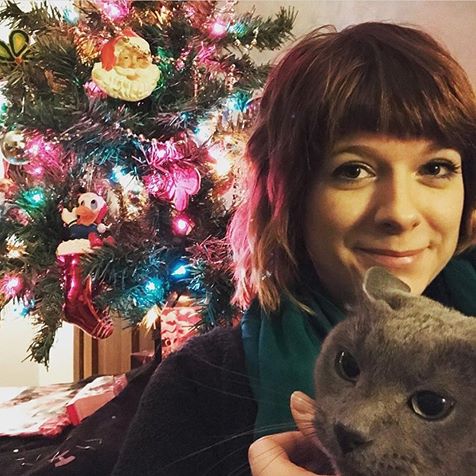 Book today! Ask for Jade.
Meet Katie Tuomi, hairstylist extraordinaire.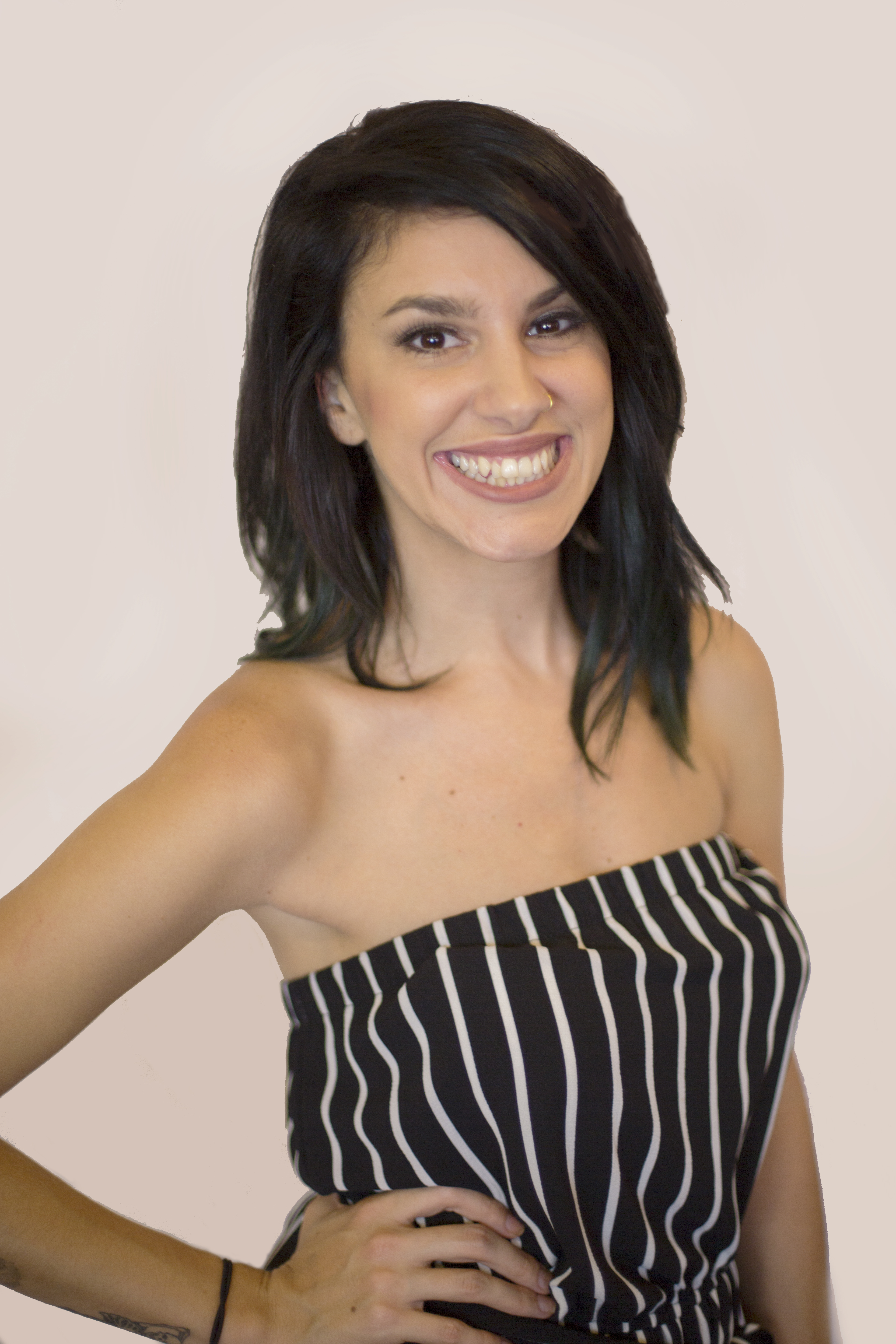 Her favorite past time is attending music festivals & concerts. Her 7 yr old son, Zeke, gets her going in the morning & her love for Iced Vanilla Lattes keeps her going throughout the busy workday.
……….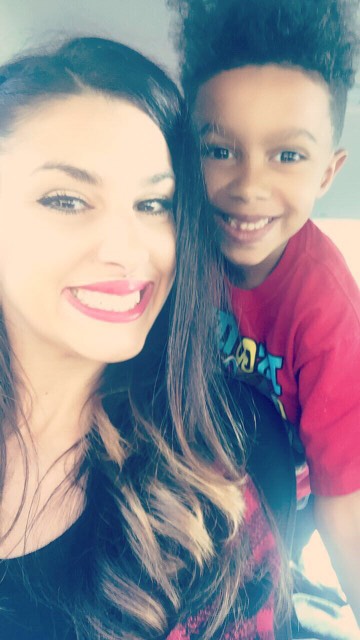 She is passionate about long hair styling, updos, & color. If you want something edgy & bold, Katie would love to work with you.  Feel free to book with her for all your color & styling needs. You can also find her every Tuesday perfecting her technique at our cutting classes at Lox Salon.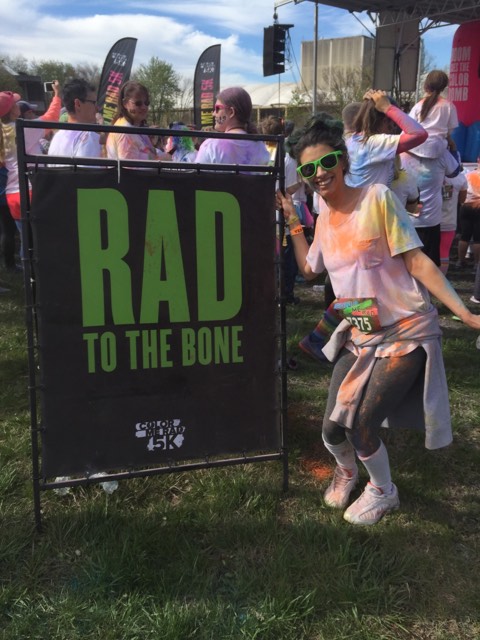 We are thrilled to have Katie on our team & we agree, she is rad to the bone!
Lox Salon is one of the top salons in Knoxville not only because we offer amazing hair & beauty services, but also because we give back. As an environmentally conscious salon, Lox is a proud partner of Green Circle Salons which enables our salon to recycle used hair foils, hair clippings, & even unused hair color which in turn helps us lower our impact on the environment. By supporting Lox, you are also supporting your environment & the planet.
Fun fact: GCS has helped divert over 2,000,000 lbs of salon waste from landfills & waterways since 2009! Learn more about Green Circle here: https://www.greencirclesalons.ca/
We are proud to be a certified sustainable salon & we thank you for your continued support.
So the next time you need a hair cut, think about being able to clean up oil spills with your freshly trimmed locks & give us a call.
We are pleased to announce some big changes in the salon. After almost 5 years at Lox Salon, Liv Halcomb has branched off to become her own brand. We are sad to see her go, but are equally proud of her & wish her the very best in her endeavors!
Jade Flanigan has been promoted to Salon Manager, & we look forward to seeing where she steers the salon in the near future.
Amanda Clift has advanced to our Salon Educator, & we are thrilled to have already had classes on Mens Barbering, Balayage color, & Extensions.
As we move forward in our education so that we can offer our guests the best services & latest trends, you will notice a small change in our pricing. We feel with this advancement in our team, that regardless of who you see for your service, you are receiving equal care & attention & our prices reflect such.
Jess Gierth is now in charge of the Creative aspects in the salon as our Creative Director & we have already seen how motivated & driven she is by showcasing the work of the team through our Instagram. Still haven't decided which stylist is perfect for you? Be sure to follow us on Instagram to see some of our work, & then decide.
We are excited to share these changes with you & we look forward to seeing you soon!
It's First Friday & that means Downtown Knoxville's Art Walk will be in full swing from 5pm until the wine runs out. Stop by Lox Salon from 6-8pm & check out local art by photographer, Josie Zimmer, & metal worker,Gregg Tune. This month we are excited to be a part of the Art Walk as all participating venues will have colorful First Friday flags located outside their place of business for all to see & welcome those to come in & check out the festivities. The weather will be perfect, the company will be merry, & the art will have you checking off your Xmas lists.
In addition to the amazing art for sale, you can support Breast Cancer Awareness month with a pink hair panel or pink rhinestone decal for only $20. Lox will be offering pink tape-in hair extension panels from 6-8pm, or while supplies last, as Kiersten Welborn, Lox Esthetician, will be offering pink jewel decals. Hope you can swing by!
Here is a link for more info of what to expect this evening: https://www.downtownknoxville.org/artwalk/
https://www.instagram.com/gregorytune/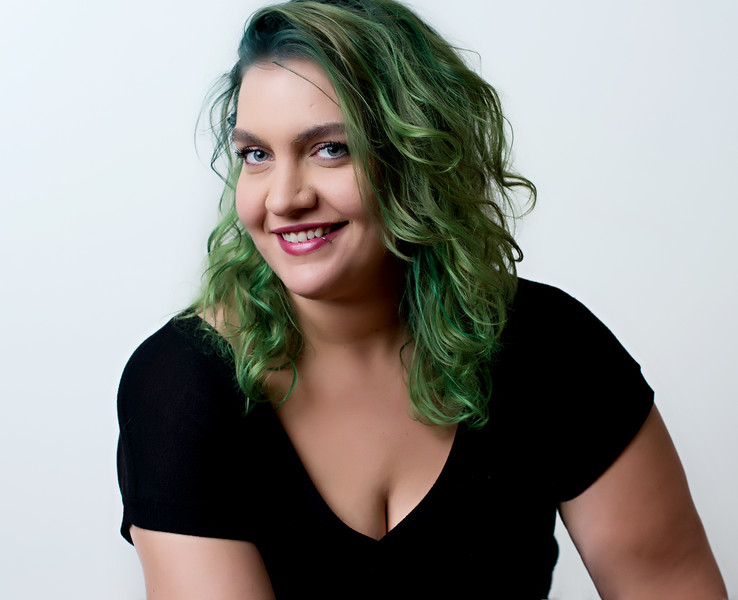 We call them "Masters" because of the hard work & dedication they have continually put forth in their careers. Every new stylist graduates Cosmetology School with a degree of 'mastery' over their new found craft. Only a few out of each graduating class really stick with it & push themselves to grow with the industry. These are the ones who truly have a passion & you can see it in their work. We consider ourselves lucky to have found 9 of these like amazing & talented artists to welcome to the Lox team.
This month we welcome Amanda Clift as our newest Master Stylist. After 3 years behind the chair at Lox & numerous hours of continuing education, we look forward to all new adventures of hair styling & coloring with this amazing stylist.
Color Melting is the newest hair color trend for 2017. We suggest you ask for Amanda.
The First Friday of every month is an extraordinary time in Downtown Knoxville. Local businesses in and around downtown open their doors, & specifically their walls, to local artists' work on display for the evenings Art Walk. Most of these businesses are not galleries themselves, but rather restaurants, coffee shops, gift shops, & yes, even Salons.
If you have yet to experience First Friday, we suggest you start this week. Lox Salon is joining forces with The Basement Art Studio, Good Golly Tamale, & Gratitude bar to support over 40 different female artists in the Nasty Woman Art Exhibit opening this Friday at 6pm. This exhibit will serve as a fundraiser for the Knoxville Family Justice Center & Girls Rock Camp. 100% of the proceeds from the sale or artwork & submission fees will go to these charities that support & empower women.
"The idea of the Nasty Women Art Exhibit was borne from a group of NYC artists who wanted to show solidarity for women's rights. The Knoxville exhibit is one of many national exhibitions organized to demonstrate solidarity among female artists and allies who identify with being a Nasty Woman in the face of threats to roll back women's rights, individual rights, women's healthcare rights, immigration rights, racial and environmental justice. It also serves as a fundraiser to support organizations defending these rights. The first exhibit was at a warehouse in Brooklyn in January 2017 and served as a fundraiser for women's health, raising over $43,000 for the cause. Since then Nasty Women exhibits have spread throughout the globe."
Lox will also be hosting a Pop Up Shop this Friday & Saturday which will include clothing, accessories, as well as specialty hair products & tools, of which a portion of the proceeds will also benefit the KFJC.
We hope you can make it out to this event! It will be one you won't want to miss.
As a cutting edge salon, we strive to keep up with the latest trends & techniques to keep you, our guest, looking your best & as stylish as ever. Continuing education is a key component to staying on trend for our stylists. You can trust that Lox stylists are getting top notch education from salon professionals including cut, coloring, styling & product knowledge.
Each stylist is required to attend training throughout the year in order to advance in their hair styling abilities & skills. As they do so, you will note their progress as they move up on the tiered level system we have in place. Our goal is to have each stylist achieve Master Stylist level. We are confident that regardless of stylist, each guest will receive the highest quality of care & attention.
This month, we are excited to announce Chelsea LeBlanc & Ana Bateman as our newest Senior Stylists. If you haven't already had the chance, we highly recommend seeing either of these talented ladies for your next service. They would be happy to meet you & your hair needs!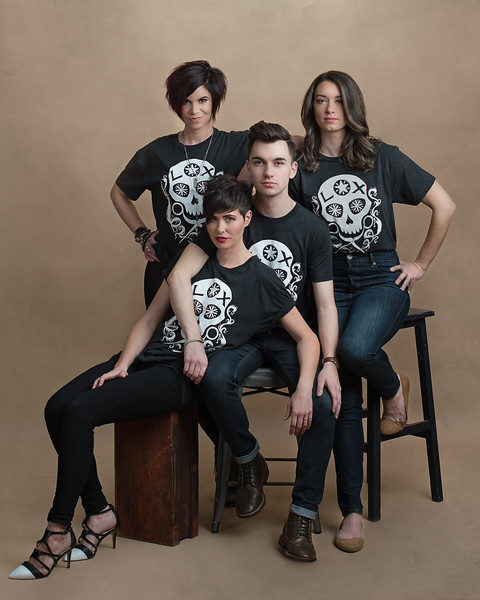 Whether you are a stay at home mom, a student, or a rock star, our stylists know you need to look your best. Carpools, finals, soccer practice, or playing an all nighter at your friends wedding, you need to look great regardless of your audience.
Rest assured, we have you covered. Your precision haircut, your customized color, even the products your stylist cocktails specifically for you & your style are all a part of the incredible service you will receive at Lox Salon.
However, we also know that you need a style you can afford. Which is why we make sure our consultations our tailored for your specific needs for a style you can keep up with & at a rate you can feel good about.
We will make sure whatever your lifestyle may involve, you have rockin' hair for everyday wear.
Upon opening in 2006, our goal here at Lox Salon was a simple one: Quality hair at an affordable price. We haven't changed much in the past decade. Thanks to your vote, we won 2016 Top Salon in Knoxville's Mercury newspaper. We must be doing something right.
Unfortunately, however, our quantity seems to now surpass our ability & our wait list extends daily. We feel as though we may be letting you down, which is the last thing we want. We value each guest and know your time is valuable, which is why we make every effort to have you looking & feeling your very best without spending too much time or money inside the salon.
This has not been an easy decision, but we have unanimously agreed that after 10 years, 2 buildings, 6 product lines, 20+ employees, and thousands of guests, we will now offer an Apprenticeship program. This means that we can (almost) always get you in to see your preferred stylist, no wait. A stylist in training will assist you in shampooing, rinsing, and styling, but a Master stylist will still handle the detailing of cutting and coloring. These new stylists are learning all they can under the supervision of our top stylists so that they too can offer quality haircare that is the Lox standard.
Are you excited as we are!? We hope so! This means that you may need to call to schedule your next appt if you see that you cannot find one online. Just keep in mind, that you will have one more person taking care of your needs than you would find normally. We always recommend prebooking your next appointment as you leave the salon, just to be sure.
To ensure that this Apprenticeship program works to the fullest, and Lox can continue to offer quality service at an affordable price, starting Dec 1st our prices will increase by $5. Student discounts will now be offered by all stylists, including Master stylists. We are so thankful that we have been able to serve the community at the low prices we offer and hope to continue. Thanks to our loyal patrons and our Referral Program, we continue to grow and expand our team and cannot wait to see what the next year holds out for us & for you.
We hope you have a great Holiday season and look forward to seeing you in the chair soon!